In a recent website submission, one of our former Presidents, Elaine Farrior, reached out letting us know she had a bit of chapter history in her possession. Of course, we were intrigued as this was from 1986 and most articles get lost in office moves, board turnover or simply to make space. Even more interesting the chapter was still known as IABC/Washington and not IABC DC Metro as we are today. She wrote.."I have some awards that were bestowed on the chapter under my leadership at the IABC Annual Conference in 1986, which was held in London. The awards are for Outstanding Achievement in Leadership Development and Chapter Administration, Special Accomplishment in Membership Development and Recruitment, and Special Accomplishment in Communication."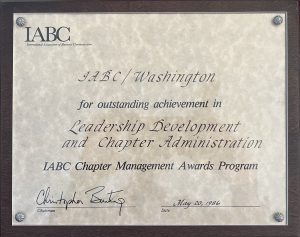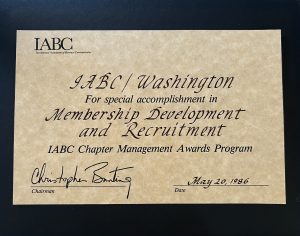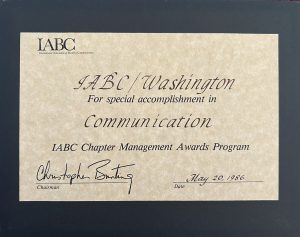 She was kind of enough to send them to us and of course the board wants to publicly thank her not only for sending them, but also for the hard work that she and her board were able to accomplish. I'm sure that trip to London was full of great memories.
Thank you Elaine for your work as past President, and for your career in the communication profession. I'm sure it was a prolific one.
The 2022 IABC DC Metro Board