April Newsletter – Reaching all the Different Stakeholders
Reaching the OG Remote Worker
Communicating Authentically in a Virtual World
If there's one thing we know about the 2022 workforce, it's that accountability is king. Research continues to affirm the importance of authenticity as a key driver of overall work outcomes for everyone from frontline workers to leaders. And being perceived as inauthentic can wreak havoc on careers, relationships, and organizational profits. How can leaders navigate this tricky situation, particularly in a hybrid work environment? Andrew Brodsky asks the question for the Harvard Business Review.
Don't Miss World Conference June 26-29!
This year's World Conference is designed for you, today's communication professionals, to connect with peers from around the globe, hear from industry experts during exceptional sessions, and leave this powerful event with knowledge that elevates your career and your organization. Mark your calendars to join us again in-person 26-29 June 2022 in New York City for the IABC World Conference 2022! This event will be one for the books as IABC hosts its first in-person conference in more than two years. Early-Bird Registration is open through April 15.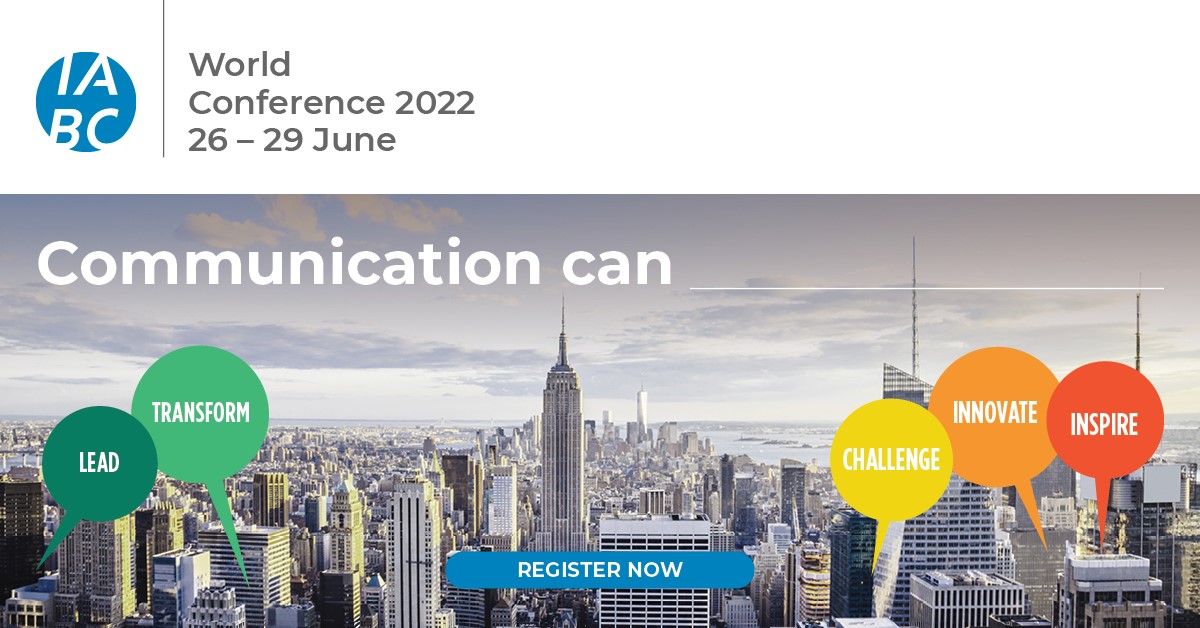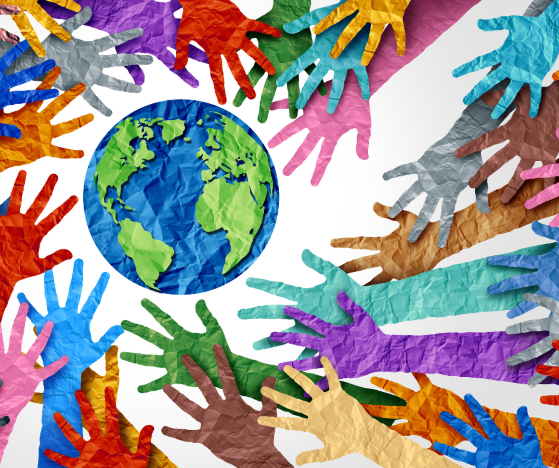 The Fab 5: How Internal Communications Can Support DEI
Each month, we share a top five list of ideas to help you advance your career, have fun, or learn something new. This month we're looking at internal communications' role in Diversity, Equity and Inclusion (DEI). As many companies continue to ask the right questions as they develop their DEI strategy, the natural next step is to look inward. Their DEI website statements describing their values should resonate with their internal values as well. That's where we communicators come in! Our five tips are from Brilliant Ink, who recently held a master class on best practices to foster inclusion and belonging at work:
Use your words! Using inclusive language is a great way to show — not just tell — your organizational values. Communicators should focus on three general principles:

Person-first language: Person-first language honors the individual for who they are, rather than reducing them to what they have. (Ex. Person with visual disability vs. Blind person)
Self-identification: Inclusive communications strive to use words that reflect a person's choice in how they talk about themselves. (Ex. Asking someone their pronouns) ‍
Active voice: Active voice puts the subject, or actor, of the sentence in the role of performing the action. (Ex. Police injure dozens as Black Lives Matter protests continue vs. Dozens injured as Black Lives Matter protests continue.)

Stop focusing on external measures of progress. Instead, first ensure your *internal* culture is inclusive, fair, and equitable by examining your environment, pay equity, systems and processes.
Be thoughtful about the stories you choose to tell. Don't make someone's disabilty or background be the theme of your engagement with them. Choose instead to share stories that celebrate the skills and contributions of your people, and engage with them regularly to build authentic relationships all year long – not just during a particular heritage or awareness month.
Provide extra support for employee resource group (ERG)/Black resource group (BRG) leaders. One organization is building an entire career development support system for its BRG leaders, including a career assessment and funding for additional learning opportunities.
Help leaders see themselves in the work. The Latin root of communications is "common ground" and, as communicators, we have an opportunity to bring people together. Empathy can be the first step to making a change.